Choir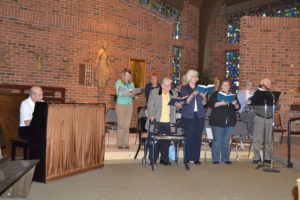 THE CHOIR
The Constitution on the Sacred Liturgy emphasized that "Choirs must be diligently promoted…." (#114). The choir remains at all times a part of the gathered Assembly. It can serve that Assembly by leading it in sung prayer and by reinforcing or enhancing its singing. Occasionally, the choir may appropriately sing alone more elaborate music that can aid the prayerful reflection of the congregation. (Introduction to the Order of Mass, 18). Attention to pitch, tone, breath support and diction are essential for excellence.
THE ROLE OF MUSIC IN THE LITURGY
The Church's liturgy is inherently musical; thus, music is a necessarily normal dimension of every experience of communal worship. (Liturgical Music Today, #5). In the liturgy, however, music is an art placed at the service of communal prayer. "Music should assist the assembled believers to express and share the gift of faith that is within them and to nourish and strengthen their interior commitment of faith. It should heighten the texts so that they speak more fully and more effectively. The quality of joy and enthusiasm which music adds to community worship cannot be gained in any other way. It imparts a sense of unity to the Assembly and sets the appropriate tone for a particular celebration." (Music in Catholic Worship,# 23). Yet as the late Brother Roger, founder of the Taizé Community remarked, "liturgical music must be like John the Baptist: always pointing to Christ, never calling attention to itself."
The St. Sebastian's Choir is always looking for new members. Contact Jim Brill at 262-308-5008 if you're interested in joining St. Sebastians Choir.