Knights of Columbus
March 2017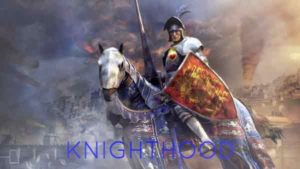 Rules for a Knight
by Ethan Hawke
I was seventeen when Grandfather took me on as his apprentice. That was old for a squire. I had much to learn about chivalry. The first thing I was given was a small handwritten list entitled "Rules for a Knight."Rule #14: Discipline
In the field of battle, as in all things, you will perform as you practice; so practice hard. With practice, you build the road to accomplish your goals. Excellence lives in attention to detail. Give your all, all the time. Don't save anything for the walk home. The better a knight prepares, the less willing he will be to surrender.
Standing Meetings
Officers & Candidate Q&A
(1st Tuesday)
St. Lucy Catholic Church
Fumo Room
6:30 p.m.
NOTE: April & May 2017 Meetings on the 1st Wednesday, same time.
Members
(3rd Thursday)
St. Lucy Catholic Church
Large Conference Room
6:30 p.m.
Verify at: kofc15659.com/events-calendar/
Newsletter
Click here to download a brief version of the KNIGHTHOOD Newsletter
in PDF format, designed to be printed and shared with anybody.Family, friends, neighbors and prospects can sign-up to receive the
full e-mail version of this newsletter by clicking this link.Articles due by the 23rd of preceding month.

Attention all Chairmen, Directors, Officers, Deacon and Chaplain:
We would like you to submit anything you would like to communicate to the members by the 23rd of the month preceding an issue. E-mail the information, supporting documents, photos, etc. to men@racinecatholic.com. Thanks!
Happy Anniversary!
This month the following men joined the Knights:Brian Lawler (1987)
Eric Atrim (2005)
Gary Ahrens (2013)
Bill Carlisle (2013)
Adrian Diaz (2013)
Timothy Dustman (2013)
James Jurgaitis (2013)
Craig Lanouette (2013)
Stephen Matelski (2013)
Jack Navin (2013)
Rick Podoba (2013)
Jay Poplawski (2013)
Ken Reed (2013)
Bill Roszkowski (2013)
Bob Sorensen (2013)
Nick Wentorf (2013)
Paul Loewen (2012)
Happy Anniversary Council 15659
Four years ago in 2013, Saint Lucy's Knights of Columbus Council was initiated on March 10th. As you can see above, a number of men joined the Knights of Columbus that day. Along with some transfers, we had around 20 men at the beginning.
We quickly grew as the enthusiasm of the Council was evident. Guys just wanted to love God and neighbor by helping those less fortunate, to pray together, to evangelize, and to enhance the already vibrant St. Lucy community. We now have 90+ members.
Much has been accomplished by the grace of God. We are proud of what we have done but we balance that with a healthy dose of humility. If it were not for the blessings from God, we could do nothing.
March 1st is Ash Wednesday and as usual, our Council is very active this month as well as the church in general. Just some of the activities coming up:
• Shroud of Turin Exhibit
• Fish Fries (and selling State Council Charity raffle tickets)
• 7 Secrets of Confession book hand out
• Stations of the Cross
• Change for Life (Baby Bottles)
• Men of Christ Conference promotion and ticket selling
• Homeless Meal
"Blessed are the merciful, for they shall be shown mercy."
We will need help from many members, especially those that have not been too active. Men get to know each other when they are working together on a project. Sign up for some activities this month.
We are in the last part of our fraternal year which ends in June. Right now the Trustees are looking for nominations for the next fraternal year Officers. Now would be a good time to put your name into the hat if you want to be an Officer or want to know more about what an Officer does.
Jesus, Mary and Joseph (J.M.J.), Pray for Us!
Life is Short
At the beginning of your initiation with the Knights of Columbus, you were reminded that life is short and to not to turn away from the widow and orphan. Jesus also told us this.
Are we doing what we can to build up the kingdom of God? While we are still on this earth, we need Knights to be praying and working within the Council and parish.
One life that ended too short was James "Jimmy" Stachura. This young Knight from Pulaski Wisconsin died unexpectedly at the age of 30, leaving a widow and two young children. And yes, the Knights of Columbus will take care of this widow and children with the insurance program. Just like that first group of men in 1882 in the church basement of Father Michael J. McGivney's parish, the Knights mission is to take care of families (the Domestic Church).
If you are not an insurance member (Permanent Life, Term Life, Retirement Annuities, Long-Term Care, and Disability), talk to our dedicated Field Agent Michael Chuchara today. The insurance program is an integral part of the Knights of Columbus from the beginning and today is one of the strongest and most ethical companies in the country.
Eternal rest grant unto them, O Lord,
and let perpetual light shine upon them.
May Jimmy rest in peace.
Amen.
Building Unity & Fraternity
We build unity and fraternity by working on charitable projects together, coming to meetings, enjoying a social event and faith formation programs.
If you have not tried it yet and are an early riser, try coming to the Thursday morning (6:15 a.m.) or Saturday morning (7:00 a.m.) men's faith formation groups. Not all men that attend these are Knights but quite a few are. Give it a try, you are always welcome.
Formation Degree Team (2nd)
We have a couple Knights so far but could use a few more for a new 2nd Degree Team in our District. Having a 2nd Degree Team in our District will be convenient and give us control of when guys can advance. Anybody can learn the different roles that are played. Reply to this e-mail or talk to GK Bill Roszkowski if you are interested or have questions.
Greeters Before Weekend Masses – St. Lucy
We have some Knights starting already but we encourage all Knights to consider coming 20 minutes before Mass to open doors and greet folks as they come to Mass. This is how we integrate our activities within the parish, and the parishioners do appreciate it!
Food Pantry
If you have any questions or would like to help out with this monthly program, contact George Oliver at 262-554-5531
Past Events
Knights of Columbus Fraternal Officer Training
Since the time of our Order's founding, Knights of Columbus councils have actively responded to the most pressing issues facing people in our parishes and communities. As soon as he becomes a member of the Order, a Knight accepts this fraternal mission.
Redemptorist Retreat
Another great retreat as we reflected on God's plentiful redemption.
Men's Rosary on 1st Saturdays
We came with joyful sacrifice and to honor Our Lady by coming to church for the 6:30 am rosary, then stayed for the Bible Study. Coffee and Kringle served!
Engaging the Struggles of Your Heart
Ascension Press program running on Sunday evenings.
Family Speaker Series
Eric Antrim was the guest speaker and talked about Discipleship for today.
Change for Life (Baby Bottles)
The program kicked off this month and will run through the end of March.
Men of Christ Southern Region Meeting
A great meeting with representatives from Racine and Kenosha counties, as well as someone from Marytown. The men shared their faith and their plans to "step into the breach" and to "put out into the deep" to tap more men to come to the conference.
Thanks to everyone participating and supporting these events!
Lent starts March 1st so now is a good time to commit to doing something extra to grow in holiness and to be ready to receive Our Lord at Easter. Here are a few suggestions:

Best Lent Ever
Daily e-mail reflections from Dynamic Catholic.

40 Days for Life
Sign-up to spend time in quiet prayer by the abortion clinic in Milwaukee.

The Bible and the Sacraments
Experience the power of the Church's seven signs of grace in the St. Paul Center's new video study, The Bible and the Sacraments. This Lent, join thousands of Catholics online by participating in this free study.

7 Secrets of Confession
Participate in handing out this excellent book by Vinny Flynn at the March 11th-12th Masses, and also read the book yourself! The Women of the Spirit will be helping with the distribution too.

Formed
Sign-up for a FREE subscription to Formed, which has the best Catholic content in one place. Entertaining movies, enlightening programs, inspiring talks, and a great selection of popular e-books–all just a click away!

It's easy to get started with Formed:
• Go to formed.org and click on "Register"
• Create your FREE account by entering Parish Code c0056d
March 3rd – 10th – St. Lucy
Shroud of Turin ExhibitThe Knights are taking an active role by picking up the trailer, setting up the display, and tearing down. There are also many slots to fill manning the exhibit.<<SIGN UP HERE>> to help out in any way you can.
March 3rd, 10th, 17th, 24th, 31st & April 7th – 6:00 p.m. – St. Lucy & St. Sebastian
Stations of the CrossSee church bulletin for location and themes.
March 3rd, 17th, 24th – 4:00 p.m. – St. Lucy
Fish FriesSign up in the narthex at church for this parish activity.
March 4th – 6:30 a.m. – St. Lucy
Men's RosaryEvery 1st Saturday at 6:30 a.m. (before 7:00 Bible Study). A small sacrifice for Our Lady and also a concrete act of mercy. Come join us!
March 6th – 6:00 p.m. – St. Lucy
Holy Hour of Eucharistic Adoration
Mark your calendars for the 1st Monday of the Month Holy Hour! A Knights of Columbus shirt would be appropriate wear if you have one.
The Holy Hours will be led by Deacon Eric Sewell and will be devoted to PEACE: World peace, National peace, Community peace, Family peace, and Personal peace.
What is a Holy Hour of Eucharistic Adoration?
From the U.S. Catholic Bishops
From the Catechism No. 2628
Eucharistic Adoration can save the world!
March 7th – 6:30 p.m. – St. Lucy
Officer's Meeting & Candidate Q&AIf you have a friend that would like to join, invite and bring him to this meeting at 6:30 p.m. This is an informal opportunity to meet the officer's and ask questions.

March 11th – 12th Masses – St. Lucy
7 Secrets of Confession Book Hand OutVinny Flynn, the author of the best-seller, 7 Secrets of the Eucharist (100,000 copies sold), presents a similar approach to the Sacrament of Confession in this new book that reveals 7 key "secrets" or hidden truths about the great spiritual beauty, power and depth of Confession.Sign-up below to help hand out this book and collect donations.

<<SIGN-UP HERE>>
or reply to this e-mail with Mass you can help at.
4 pm Saturday
7 am, 9 am, 10:30 am, or 5:00 pm Sunday
March 16th – 6:30 p.m. – St. Lucy
Members MeetingHope to see you there for upcoming program updates and fellowship.More hands make light work but help more people!!
March 25th – 4:00 p.m. – HALO
Meal for the HomelessWatch for the sign-up e-mail.
March 27th – 7:30 p.m. – McGivney Hall
Assembly 1207 Meeting
If you are a "Sir Knight," come to this meeting to get the latest updates.
To become a member of the 4th Degree, read the information below.
EASTERN DISTRICT FOURTH DEGREE EXEMPLIFICATION
Saturday, April 1, 2017
Starting at: 10:30 a.m.
Event Link: http://kofcknights.org/CouncilSite/event-detail.asp?ID=150013&CNO=0
Location: KI Convention Center – Green Bay
333 Main Street
Green Bay, WI  54301
Dear Brother Knights:
A most cordial invitation is extended to every Third-Degree Member of our Order to advance to the Fourth Degree in the Knights of Columbus.
The Fourth Degree is very proud of its many accomplishments since its founding in February of 1900. The ceremonials of the Fourth Degree were orchestrated and remains so today on the theme of Patriotism and Catholic Citizenship.
The Honor Guard, the most visible part of our Order, is extremely proud of its contribution of Patriotism and in the support of our Church.
To qualify, a candidate must be a Third-Degree member of the Knights of Columbus in good standing.
We extend to you and our Brother Knights our Best Wishes for a successful year.
Contact your Grand Knight for more information.
Fraternally,
SK Larry Ziarnik, Master – Eastern District
SK Timothy Genthe, Master – Western Wisconsin District
SIGN UP NOW – April 1st – Milwaukee Theatre
ST. LUCY'S SPECIAL DEALS:
• St. Lucy's will be buying tickets at the early bird group rate price of $39 each.
• Special for First Time Attendees: $19 ($10 off the regular price).
• Students: $19 ($4 off the regular price).
• St. Lucy's will have a bus available for a suggested minimum donation of $11 each.
The bus will leave at 5:45 am to arrive in time for the 7:00 am Mass.
• Carpooling available for later arrival & after St. Lucy Men's Bible Study.
• If the cost is prohibitive, let us know.
<<CLICK THIS LINK>> to download and print the St. Lucy flyer for the conference, bus, and/or carpool.
Then mail or drop off the bottom portion of the flyer with your check to:
St. Lucy Parish, ATTN: Men of Christ, 3101 Drexel Av, Racine, WI 53403
It is our understanding that parking for cars will be limited due to construction in downtown Milwaukee so plan accordingly. Consider taking the bus or carpooling.
The theme and speakers for the conference are awesome!
Dr. Scott Hahn, Jason Evert, and Jesse Romero. See www.menofchrist.net for more information.
2017 Young Men of Christ Conference
March 31, 2017 beginning 6:30 p.m.
Milwaukee Theatre
500 W Kilbourn Ave, Milwaukee, WI 53203
(Friday night before the Men of Christ full day Saturday conference)
TICKETS: Advanced tickets $10.00; $5.00 for students
Day-of-Event tickets $15.00; $10.00 for students (must have valid student I.D.)
Featuring Jason Evert and Jesse Romero:
Plus – a panel discussion about the challenges facing 18 to 35-year-old men today, Holy Mass and a social gathering at Turner Hall after the conference!
For more information and to register:
https://menofchrist.net/conferences/2017-young-men-of-christ-conference/.
A Special Message from your local field agent, Michael Chuchara.

Ask eligible men to join

Today, we want to address the growth of the Order. Membership growth is the fuel that keeps this great fraternal engine running. All of our charitable works at the council, state, national and international level are thanks to our hard-working members. And more members equals more charity.

We know that the membership blitz is a tried and true way for councils to get more men to join. We see these pushes often in March, in celebration of Founder's Day, and again in October. These drives are successful because brother Knights have increased visibility speaking or presenting during and after Masses and at special events. We must remember that we have a duty to ask each and every Catholic gentleman to join our ranks for the good of the Church, the community, and the Order.

During the rest of the year, we often "forget" to ask men to join and to bring their families into the Knights of Columbus family. You probably know an eligible Catholic man you could ask today. What if the only reason he hasn't joined is because no one has asked him yet?

When telling a prospect about the strengths of the Order, don't forget to mention the many fraternal benefits we offer. This is often a key selling point to a potential member who is on the fence. Many members become Knights simply to be able to buy coverage to protect their family. Soon after, they realize the good our charitable works do for their community, and they are proud to be members.

As your professional Knights of Columbus Field Agent, I look forward to helping your council grow in fraternity in any way that I can. Please ask me for help!

Fraternally,
Michael J. Chuchara, CPA, FICF
Field Agent
2742 Village Green West
Racine, WI  53406
262-497-2359
Mike.Chuchara@kofc.org

Click this link for more information on why we sell insurance:
The Origins of KofC Insurance

"By Brother Knights for Brother Knights"