St. Patrick's Meals
St. Pat's Meal Program 2017

For I was hungry and you gave me food, I was thirsty and you gave me drink….Matthew 25:35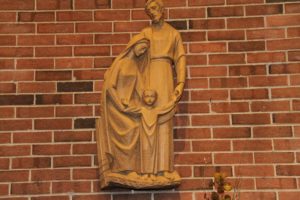 2017 meal and sign up dates (in the family room)
February 16 Chili Supper

Sign up February 4/5 & February 11/12

April 20 Ham and Scalloped Potatoes

Sign up April 1/2 & April 8/9

June 15 Sub Sandwiches

Sign up June 3/4 & June 10/11

August 17 Brat and Corn Picnic

Sign up August 5/6 & August 12/13

October 19 Tacos

Sign up October 6/7 & October 13/14

December 21 Turkey Dinner

Sign up December 8/9 & December 15/16
We supply 150 meals each time.
Food Pantry supplies the hams, turkeys, ground meat and other assorted items. St. Sebastian's supplies the pans.
We partner with Greater Mt. Eagle Baptist Church to provide the food.
Drop off is Thursday (day of the meal) 3-4 pm in school kitchen or by arrangement with Teri 262-939-3643 or Colleen 262-498-4532. If nonperishable or frozen can be dropped at the sign-up.